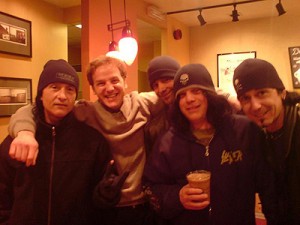 On a day like any other,
with nothing much to do,
I found myself at Starbucks,
at a table, built for two.
Chatting around the subject,
Of money I didn't have,
A subject only lit,
By the company that I shared,
The conversation was winding down,
When I looked up and they were there.
They agreed to take a picture,
We chatted for a while,
About New York and weather,
And travelling in style.
I must say, for Gods of Rock,
They're the friendliest of blokes,
They even had the good grace,
To laugh at my stupid jokes.
So the next time you have a go,
At Americans impolite,
Or brazenly telling you something,
That you know is just not right,
Remember the moral of this tale,
That looks can be deceiving,
I only wished I had asked for back stage passes,
Before I saw them leaving!
I may never have the pleasure,
Of meeting you all again,
But I want to say a great big 'Thank You!'
To Joey Belladonna and his Crew.
(And to the grumpy git,
Who ran out before the picture lit,
Thank you too!)
Because at the very end,
Running out to say goodbye,
I shook everyone's hand,
Said my fare thee well,
And grinned my way all the way home,
With an awesome story to tell!
EF 03/12/07
Tweet