Today went as well
As could be expected
Considering, I was learning
All about ITIL v3.
There is only so much,
Technical gumf, that my
Brain can take, before information
Starts falling out the side,
Leaving me slightly lopsided
And top-heavy, somehow.
So here's a poem about
The other things I am doing
To make the dull throbbing
Of Services and Warranty,
Utility and Archetypes disappear,
If only for an hour or two.
I came home after 12 hours,
To find the lovely picture,
Of beautiful daughter and cool
Au pair, hanging out happily
Together.
A package lay awaiting,
Resting slyley on my desk,
Winking plastic in my eye
As I passed, nonchalantly.
Noticing my tightly-wrapped
Nemesis there, waiting patiently
On my desk, I grabbed and ripped
It open, to find…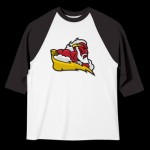 Darker Zeus merchandise!
The print is good quality,
As is the material (Anvil anyone?)
And the two ladies of the
House were well-pleased
With their new clothing,
So all in all, a good
Day was had by all.
Now if only
I can retain half
Of the ITIL-speak
I have shoved in my head
Over the past
Week,
I will be happy
Too.
Countdown to test…5…4…3…2…
Tweet